Article on Mass Production of Nanotextured Surfaces, using ultra-short pulse (USP) lasers, in The Laser User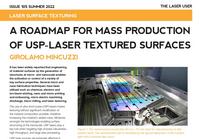 Article on Mass Production of Nanotextured Surfaces, using ultra-short pulse (USP) lasers, in The Laser User
Published on 06 Sep 12:56 (9 months ago) by
AquaTT
NewSkin partner
ALPhANOV
's Girolamo Mincuzzi has written a nice article in
issue 105 of The Laser User
on the use of ultra-short pulse (USP) lasers for upscaling the nanotexturing process. In the article "
A roadmap for mass production of USP-laser texture surfaces
" Girolamo describes two pilot lines available in ALPhANOV's facilities for nanotexturing, one for large surfaces with high throughput (on roll-to-roll) and the other for nano-texturing an injection mould used for polymers. In his example in the article the nanotexturing in the moulds was for producing plastic reservoirs with anti-bacterial qualities for dishwashers, but
nanotexturing could be done to enhance a variety of high-performance surface functionalities such as anti-icing, anti-corrosive, anti-fouling, anti-microbial, hard-wearing, and anti-friction for different materials, including steel, membranes, polymers, ceramics, and composites
. These facilities are making significant steps towards
mass production of nanotextured surfaces
which will open the way for the manufacturing of nanotextured products
.
As part of the NewSkin facilities, the team
ALPhANOV
acts as facilities technology provider for
nanotexturing different material surfaces using USP lasers directly or through moulds to produce different functional surface properties
such as anti-fouling and anti-corrosion properties on steel substrates or anti-ice properties on nano-textured composite samples.
Nano-enabled surfaces and membranes have huge potential to increase the performance of materials used in numerous sectors, including energy, electronics, construction, transport, health, water, and the environment. These key enabling nanotechnologies will be the driving force behind many new functionalities, improved performances, and higher efficiencies in a range of commercial and personal goods that will be available to the market over the next decade. The main challenge is sustainable, cost-effective upscaling and deployment of these nanotechnologies, which would lead to more wide-spread adoption, reduced energy consumption, and economic gains throughout Europe. Through the EU-funded NewSkin Open Innovation Test Bed project SMEs, start-ups, research labs and industry can access unique pilot scale prototyping, upscaling, and testing facilities to accelerate the manufacture, validation and commercialisation of innovative nano-surface and membrane materials and technology across Europe.


You can apply for free access to these and other NewSkin facilities through NewSkin OITB Open Calls. Please see
platform.NewSkin-OITB.eu
for more details on the services available.