NewSkin Catalogue of Services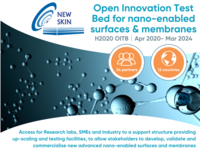 NewSkin Catalogue of Services
Published on 14 Jan 10:03 (almost 2 years ago) by
ALPHA-RLH
The NewSkin team has provided an extensive description of the NewSkin OITB test bed services. Download the
NewSkin OITB Catalogue of Services
now to discover the upscaling and testing opportunities open to support research labs and industry, especially SMEs, to accelerate their novel nano-surface and membrane technologies to the market.
The next cut-off deadline for applications is for the third open call and is on
23rd June 2023
.
To apply, please contact the team on
info@NewSkin-OITB.eu
to make an initial enquiry, and/or to discuss the services and how they can be tailored for your potential application. Then,
sign up here
to the NewSkin platform and complete the short online application form before the deadline. Applicants can request an NDA before filling the open call application - please email
info@NewSkin-OITB.eu
to arrange this.