NewSkin OITB consortium meeting in Dresden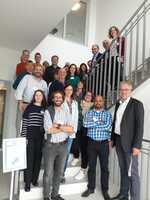 NewSkin OITB consortium meeting in Dresden
Published on 10 Nov 14:13 (19 days ago) by
AquaTT
On 10-11 October 2023 the NewSkin OITB team gathered in
Fraunhofer FEP
in beautiful Dresden, Germany for their consortium meeting. We were delighted to discuss
NewSkinOITB
progress on nano-surfaces, nano-coatings and membranes and to have time to catch up with the NewSkin partners, as well as colleagues who joined us from two other OITBs
Convert2Green
Flexfunction2Sustain
.
The
NewSkin OITB
consortium meeting was hosted by Fraunhofer FEP. Thanks to the team
Matthias Fahland
, Cindy Steiner,
Stefan Hinze
, and
Jan Hesse
for their kind hospitality and excellent organisation. We got to take a tour of some of the impressive labs at
Fraunhofer FEP
and to see the labFlex®200 roll-to-roll machine which can be used on many flexible substrates (metal, polymer, paper, composite, etc) to add properties such as hydrophilic, hydrophobic, etc. And also the larger coFlex®600 pilot coater, that can be used to handle wider roll-to-roll processing of different materials. We also enjoyed great views over the 'Blue Wonder' steel truss bridge on the river Elbe at a networking dinner.
With plenty of time to exchange ideas, have those all important side conversations and enjoy time with the consortium partners this was a very fruitful meeting.