NewSkin partner ALPhANOV host outreach activities as part of Fête de la Science, ESTER Technopole, Limoges, France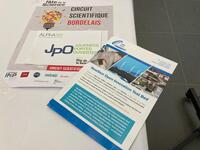 NewSkin partner ALPhANOV host outreach activities as part of Fête de la Science, ESTER Technopole, Limoges, France
Published on 18 Oct 15:07 (about 1 month ago) by
AquaTT
Our
NewSkin OITB
Partner
ALPhANOV
(a technology centre for optics and lasers) are hosting "Journée Portes Ouvertes ALPhANOV"
#outreach
event for students and the general public as part of the science festival "Fête de la Science" in the Science park
ESTER Technopole
in Limoges, France on 12-14 October. Engaging the next generation in discovering the exciting world of photonics and the many innovative applications.
On Thursday, students and the general public got to attend demonstrations of innovative products and services, exchange with the various teams, meet the training managers, etc.
Friday was all about engaging school students, with the goal to inspire tomorrow's generation and highlight the role of this science in today's world.
Saturday was the final day, where the general public could join-in to discover the latest laser developments led by ALPhANOV's team through a guided tour and workshops! Including laser micromachining on hydrophobic surfaces, virtual reality for photonics training, 3D steel cutting, laser developments for breast cancer detection, laser used for microelectronics, integration of fiber lasers, fiber optics and exceptional properties, and more!