NewSkin partner work on dirt-repellent surfaces for retrofitting facades and solar panels easily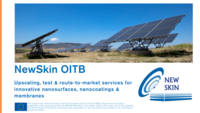 NewSkin partner work on dirt-repellent surfaces for retrofitting facades and solar panels easily
Published on 03 Feb 14:08 (4 months ago) by
AquaTT
Photovoltaics cover a growing percentage of gross electricity consumption especially now with the sustainable energy transition. In this NewSkin showcase
The Fraunhofer Institute for Organic Electronics, Electron Beam and Plasma Technology FEP
are focused on developing dirt-repellent, easy to clean surfaces which would ensure transparency and cleanliness for glass facades and more efficient and consistent energy production for solar panels, with less maintenance costs.
The team are upscaling photoinduced hydrophilicity by applying crystalline titanium oxide to ultrathin glass in a roll-to-roll process for the first time. "The ultrathin and lightweight glass can be applied subsequently to facades or directly incorporated into solar modules as a composite material - and even onto curved surfaces." according to Valentin Heiser, a graduate student from Fraunhofer FEP working on the showcase.
Thanks to this work through NewSkin, Fraunhofer FEP scientists are now working on combining the properties of titanium dioxide and thin glass in an optimal and cost-efficient way in order to bring innovative products to market together with industry. Researchers from Newskin OITB partner
Uppsala University
are even working on transferring the results even to polymer films.
In the future, work will also be done by
Fraunhofer FEP
on layer systems that can be activated not only with UV light but also with visible light. The production and embedding of nanoparticles or doping with nitrogen, for example, are also being considered.
Read the
full press release here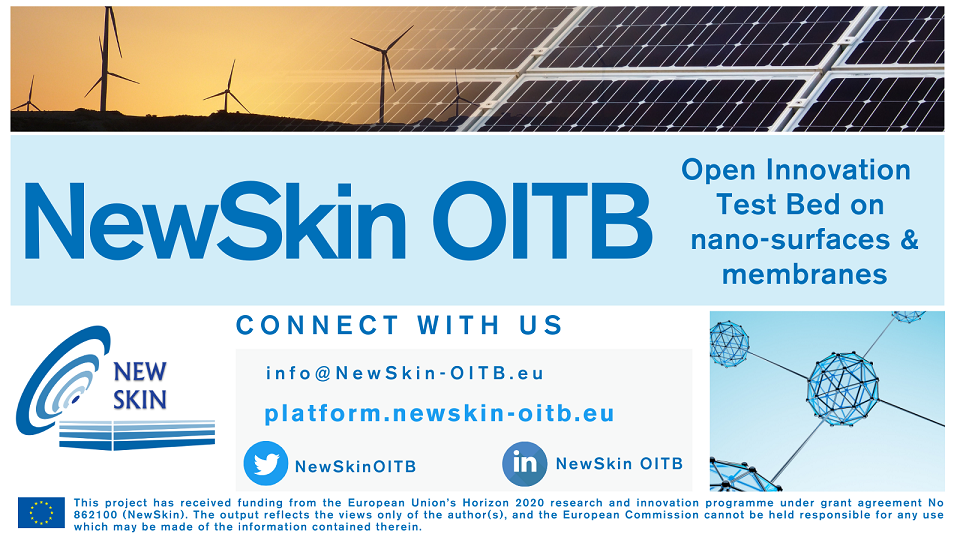 SMEs, startups, research labs and industry can all
access the NewSkin OITB state-of-the-art facilities
for accelerating innovative
nano-enabled surfaces, coatings and membranes.
Access is by contract, or for
free*
(by
applying to the fourth and final NewSkin Open Call
). The European funded NewSkin OITB test bed offers users
open access to state-of-the-art facilities
for adding, upscaling, characterising, accelerated rigorous testing and/or route-to-market services of
advanced high performance surface functionality
(such as hydrophobicity, anti-fouling, anti-reflecting, auto-cleaning, anti-corrosive, anti-icing, anti-microbial, anti-friction, hard-wearing, and lubrication) through
nanotechnologies
.
Discover our facilities today:
10 upscaling and 9 testing facilities available across Europe
Route-to-market services - including Life Cycle Analysis, nano-safety assessment, business planning & networking
Open to: SMEs, Start-ups, Research labs, Industry
*We can provide
up to €60K
(possibly higher in consortium projects)
in nano-enabled surfaces and membranes market acceleration services funded entirely by H2020 NewSkin project
-
Open Call 4 is now open.