NewSkin OITB Open Call 3 deadline is extended to 3rd February 2023 5PM CET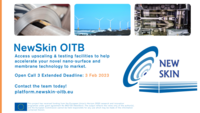 NewSkin OITB Open Call 3 deadline is extended to 3rd February 2023 5PM CET
Published on 31 Jan 12:20 (10 months ago) by
AquaTT
NewSkin OITB Open Call 3 deadline has been extended to 3rd February 2023 5PM CET

The NewSkin 3rd Open Call is open to non-consortium academic partners, SMEs, startups and industry. We can provide up to €60K (possibly higher in consortium projects) in nano-enabled surfaces and membranes market acceleration services funded entirely by H2020 NewSkin project with no financial contribution necessary from you (your benefit).


Your proposed use of the facilities must leverage the capabilities of the open innovation test-bed facility as we want to demonstrate our facilities to a broad range of industry and academic potential end users (our benefit).

Materials we work with include: steel, metals, filtration membranes, ceramics, composites, polymers, coils, films, foils, envelops, packaging, marine transport, renewables, PV panels, wind-turbines, dynamic components, seals, and more.

Key Target Industries include: construction, industrial components, water treatments, transport, renewable energy, prosthesis, optics & electronics, packaging, food & beverage.


Facilities we have to offer include:
Nano-enabled coatings and nanoparticles for corrosion protective coatings, barrier, photocatalytic, heat reflective, intumescent, tribological, EMI shielding, conductive and other applications.
Functional nano-textures and surfaces for sustainable construction, energy storage, corrosion, ice, fouling, microbial and wear protection, tribological, heat transfer, optical, electrical and biocompatible applications.
Components working in dynamic conditions under wear, friction, vibrations, and corrosion including cryogenic, vacuum, and high temperature such as gears, shafts, dynamic seals.
Components exposed to harsh environments such as offshore structural elements, wind blades, wings, turbine blades, marine hulls, propellers, pumps, and other components.
Selective and anti-fouling membranes and mono-atomic graphene membranes: Scale-up and test facilities for gas/water permeation media: improved selectivity, anti-fouling, anti-microbial, mono-atomic graphene membranes, graphene oxide including pore and functional layer creation.
Miscellaneous functional layers: textures and coatings to enhance different products including, optical, medical, electronics, heat exchange, barrier for sustainable packaging and other functional applications.
The team has provided an extensive description of the NewSkin OITB test bed services - describing the different services that you can avail of.
Download
NewSkin catalogue of services
and discover the upscaling and testing opportunities open to support research labs and industry, especially SMEs, to accelerate their novel nano-surface and membrane technologies to the market.

The deadline for applications for the third open call is
03rd Februrary 2023
. To apply, please contact the team on
info@NewSkin-OITB.eu
to make an initial enquiry, and/or to discuss the services for your potential application. Finally,
sign up here
to the NewSkin platform and complete the short online application form.
Applicants can request an NDA before filling the open call application
- please email
info@NewSkin-OITB.eu
to arrange this.
** Please note that Open Call 3 is now long closed, your final chance to apply is to Open Call 4 with a deadline on 23rd June 2023 - apply early to avoid disappointment.