NewSkin webinar presenting open innovation facilities across Europe available to all (French)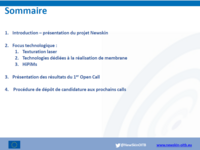 NewSkin webinar presenting open innovation facilities across Europe available to all (French)
Published on 08 Aug 08:02 (over 1 year ago) by
European cluster of ceramics
NewSkin webinar presenting the project, and NewSkin open innovation services and facilities across Europe available to all
hosted by NewSkin's French partners on 7/7/22 in French.
In this webinar, NewSkin French partners Romain Herault (Alpha-RLH), Emilie Scheers (Pole Dream), Valentine Glattard (European Cluster of Ceramics) and Sophie Comte (European Cluster of Ceramics) introduced the NewSkin project and the European-funded NewSkin nano-surface and membrane testbed facilities available for use by Research labs, SMEs, and Industry who wish to avail of the NewSkin innovation acceleration platform.
Watch webinar now
NewSkin is a H2020 project that has created an Open Innovation Test Bed which provides access for Research labs, SMEs, and Industry to the necessary technologies, resources and services to manufacture industrial and consumer products integrating nano-enabled surfaces and membranes. The facilities will allow users from across Europe to create, upscale, integrate, validate and commercialise new advanced nano-enabled surfaces and membranes bringing new functionalities and better performances and higher efficiencies to a range of products.
NewSkin OITB facilities are helping to accelerate the uptake of these advanced surface nano-technologies by synergistically combining controlled structures and functional/high-performance nano-layers with mass production processes. NewSkin OITB testing facilities will enable rigorous testing to demonstrate the outstanding performance of these NewSkin enabled manufactured components in real environments and applications.
You can apply for free access to NewSkin facilities across Europe through 4 Open Calls. Call 2 closed on 29th July 2022.
Call 3 cut-off date 30 January 2023
. Call 4 expected deadline is June 2023.
See open calls page for more detail.
The webinar presentations focused in particular on the facilities for laser texturing, membrane construction, HiPiMs technology, and a wide range of the high-performance surface functionalisation properties possible through these upscaling and testing facilities. The range includes anti-icing and properties for aircraft surfaces, electricity line infrastructure and wind turbine blades; anti-bacterial surfaces for food, packaging, medical applications; self-cleaning and anti-fouling surface properties for food, fuel storage, electronics, metal construction, PV panels, windows; as well as improved anti-fouling resistance and selectivity for filtration membranes; graphene, carbon nanotubes, graphene oxide and other nano-particle membranes; anti-fouling, cavitation prevention, improved drag texture, wear resistance, tribological properties and low friction under vacuum and cryogenic temperatures for water treatment, maritime engines and centrifugal pumps. The team presentations also covered NewSkin characterisation and prototype performance testing facilities available (which replicate real industrial and operation environment conditions), and how to access these facilities for free, through NewSkin Open Calls.