NewSkin team participated in IndTech2022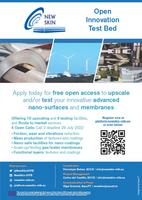 NewSkin team participated in IndTech2022
Published on 01 Jul 16:00 (over 1 year ago) by
AquaTT
The
NewSkin OITB
team participated in
IndTech2022
this week. We had a booth in the
OITB village
, where conference delegates could come to chat to the team, and attend talks to learn more about the NewSkin, and other, Open Innovation Test Beds (OITBs) offerings. There was keen interest in how SMEs, research centres, and industry could gain free access to these high-tech facilities for characterising, upscaling and testing nanotechnology solutions to increase the performance of surfaces and/or membranes by making them, for example, more resistant to wear, fouling, high temperatures or corrosion.
Our team took the opportunity to meet and exchange ideas with the other OITBs present, which included:
And participants from other IndTech2022 villages including:

NewSkin is a H2020 funded Open Innovation Test Bed (OITB), which aims to support the development and market acceleration of new surface & membrane functionalisation by nanotechnologies, generating a wide range of enhanced surface properties for commercial and personal products in different sectors.


NewSkin test bed offers open access to facilities for adding, upscaling, characterising and/or accelerated testing of, advanced high performance surface functionality (such as hydrophobicity, antifouling, antireflecting, auto-cleaning, anti-corrosive, anti-icing, anti-fouling, anti-friction, hard wearing, and lubrication) to surfaces (e.g., steel, filtration membranes, ceramics, marine transport, renewables, PV panels, wind-turbines, dynamic components, seals, and more) through nanotechnologies (e.g., nano-coatings, nano-structuring, laser texturing, graphene).


NewSkin services include access* to 10 upscaling and 9 testing facilities, and route to market services (including Life Cycle Analysis, nano safety assessment, business planning, and networking).

*Services are available by contract as well as via 4 Open Calls (providing up to 100 successful applicants with free access).

Open Call deadlines: Call 2 deadline 29 July 2022. Call 3 deadline is 31st January 2023. Expected deadline for Call 4 is June 2023.


Find out more about NewSkin services:
talk to any of the NewSkin partners, visit platform.newskin-oitb.eu, email enquiries to
info@NewSkin-OITB.eu
,
connect on LinkedIn
@NewSkin OITB