NewSkin partner AIMEN have upgraded their laser texturing and Roll to Roll capabilities within the frame of the NEWSKIN OITB offering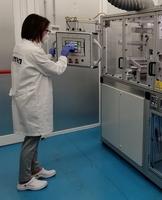 NewSkin partner AIMEN have upgraded their laser texturing and Roll to Roll capabilities within the frame of the NEWSKIN OITB offering
Published on 09 May 17:10 (over 1 year ago) by
AquaTT

The EU-funded NewSkin Open Innovation Test Bed project is offering unique pilot scale prototyping, upscaling, and testing facilities as well as route to market services, and access to investors, to SMEs, Research labs and industry to accelerate the commercialisation of innovative nano-surface and membrane materials and technology across Europe.


As part of the NewSkin upscaling facilities, the
AIMEN
team are using a laser fibre designed to guide ultrashort laser pulses, combined with a high precision 5 axes positioning system – which allows the fabrication of different textures on 3D samples, such as the cylindrical rolls used in roll-to-roll thermal imprinting. The upgrade of the roll-to-roll facility, particularly the increased width of the web that can be coated and/or textured, promotes the fabrication of functional polymeric surfaces with tailored properties.
You can apply for free access to this and other NewSkin Open Innovation Test Bed facilities through NewSkin OITB Open Call 2, with
deadline on 29th July 2022
, more details on the services available on
platform.NewSkin-OITB.eu
The NewSkin services offered are expected to speed-up the launch of novel nanomaterials and membranes, and commercial or personal products using these advanced materials, to boost efficiency and to support industry, especially SMEs, in better and faster development of their products.


To apply, please contact the team on
info@NewSkin-OITB.eu
to make an initial enquiry, and/or to discuss the services for your potential application. You can
sign up here
to the NewSkin platform and once the call is open, complete the short online application form. Applicants can request an NDA before filling the open call application - please email
info@NewSkin-OITB.eu
to arrange this.