H2020 NewSkin Test Bed Webinar: Facilities overview & how to gain free access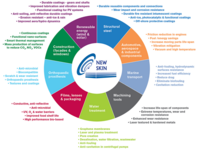 H2020 NewSkin Test Bed Webinar: Facilities overview & how to gain free access
Published on 29 Nov 16:27 (over 1 year ago) by
AquaTT
18 months ago, we started the NewSkin project (
https://lnkd.in/d4h9EkrG
), an Open Innovation Test Bed that aims to accelerate the uptake of nano-enable surfaces and membranes.
Join us at the H2020 NewSkin Test Bed Webinar: Facilities overview & how to gain free access
1 Dec 2021 14:00-16:00 CET
Register now:
https://lnkd.in/eZQJw-Gn
Presenting the full NewSkin testing and upscaling facilities to all relevant industries (construction, industrial components, water treatment , transport, renewable energy, prosthesis, packaging, optics & electronics)
The project offers unique interoperable upscaling and testing facilities as well as route to market services including access to investors.
End-users, producers and developer in the following fields are encouraged to attend the webinar.
· Nano-enabled coatings and nano-particles for corrosion protective coatings, barrier, photocatalytic, heat reflective, intumescent, tribological, EMI shielding, conductive and other applications.
· Functional nano-textures and surfaces for sustainable construction, energy storage, corrosion, ice, fouling, microbial and wear protection, tribological, heat transfer optical electrical and biocompatible applications.
· Components working in dynamic conditions under wear friction and corrosion including cryogenic, vacuum, and high temperature such as gears, shafts, dynamic seals.
· Components exposed to harsh environments such as off-shore structural elements, wind blades, winds, turbine blades, marine hulls, propellers and other components.
· Selective and anti-fouling membranes and mono-atomic graphene membranes.
· Sustainable packaging.