NewSkin OITB Free Webinar: Open Call Facilities Access for Surface Treatment & Functionalisation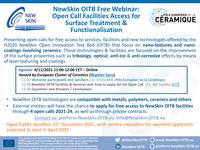 NewSkin OITB Free Webinar: Open Call Facilities Access for Surface Treatment & Functionalisation
Published on 03 Nov 15:24 (about 2 years ago) by
AquaTT
4/11/2021 11:00-12:00 CET – Online
- hosted by European Cluster of Ceramics (EUCER)
Register now:
https://lnkd.in/eTihhVKu
Presenting open calls for free access to services, facilities and new technologies offered by the H2020 NewSkin Open Innovation Test Bed (OITB) that focus on
nano-textures and nano-coatings involving ceramics
. These technologies & facilities are focused on the improvement of the surface properties such as
tribology
,
optical
,
anti-ice
&
anti-corrosive
effects by means of laser texturing and coatings.
•NewSkin OITB technologies are
compatible with metals, polymers, ceramics and others
.
•External entities will have the chance to apply for free access to NewSkin OITB facilities through 4 open calls 2021-24, as well as through private contracts.
Open Call#1 deadline 31st December 2021, with service execution for awarded applicants expected to start in April 2022