NewSkin OITB Water team at AquaTech Amsterdam 2-3 Nov 2021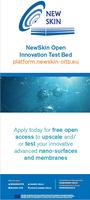 NewSkin OITB Water team at AquaTech Amsterdam 2-3 Nov 2021
Published on 02 Nov 17:35 (about 2 years ago) by
AquaTT
The
NewSkin OITB
team participated in
Aquatech Amsterdam
2-3 November 2021.
Some of the team presented the H2020
NewSkin OITB
water related technologies at the
Aquatech Amsterdam
Desalination Hub - Industrial Water on Tuesday 2 Nov 2021 at 15:00-16:00 CET. Carlos del Castillo (ECCS) David Kinahan (DCU) Lorenzo Bautista (Leitat) and Matthias Fahland (Fraunhofer) presented how SMEs, research labs, and industry can apply for free open access to upscaling &/or testing services for novel surface and membrane nano-technologies in the NewSkin OITB facilities.
A NewSkin panel was also on display on the EDS Stand 05.442 in the DESALINATION HUB - Hall 5 @ AQUATECH 2-5 Nov.
If you are interested in using the NewSkin facilities to accelerate your membrane or surface nanotechnology to market, or in applying a novel surface or membrane technology to enhance your product, visit
platform.newskin-oitb.eu
,
check the
NewSkin facilities overview presentation
, and email us to arrange a meeting:
info@NewSkin-OITB.eu