NewSkin OITB Water team at AquaTech Amsterdam 2-3 Nov 2021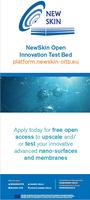 NewSkin OITB Water team at AquaTech Amsterdam 2-3 Nov 2021
Published on 02 Nov 17:35 (about 1 month ago) by
AquaTT
The
NewSkin OITB
team look forward to meeting you at
Aquatech Amsterdam
2-3 November 2021.
Some of the team are presenting H2020
NewSkin OITB
at the
Aquatech Amsterdam
Desalination Hub - Industrial Water on Tuesday 2 Nov 2021 at 15:00-16:00 CET. Join us to learn how you can apply for free open access to upscaling &/or testing services in NewSkin OITB facilities.
Also see our NewSkin panel on the EDS Stand 05.442 in the DESALINATION HUB - Hall 5 @ AQUATECH 2-5 Nov.
Email us to arrange a meeting at AquaTech Amsterdam 2021:
info@NewSkin-OITB.eu