H2020 NewSkin Open Innovation Test Bed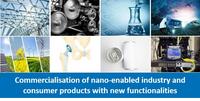 H2020 NewSkin Open Innovation Test Bed
Published on 13 Sep 11:46 (over 1 year ago) by
AquaTT
NewSkin
is a
H2020 project
that will create and run an
Open Innovation Test Bed
that will provide access for Research labs, SMEs, and Industry to the
necessary technologies, resources and services
(including testing and Route to Market services) to uptake a set of game-changing, efficient, cost-effective, innovative and synergistic processes
to manufacture
industrial and consumer
products integrating nano-enabled
surfaces and membranes.
The facilities will allow users from across Europe to create, upscale, integrate, validate and commercialise new advanced nano-enabled surfaces and membranes bringing new functionalities and better performances and higher efficiencies to a range of products.
NewSkin OITB facilities will help to accelerate the uptake of these advanced surface nano-technologies by synergistically combining controlled
structures and functional/high-performance nano-layers
with
mass production
processes
.
NewSkin OITB
testing facilities
will enable rigorous testing to demonstrate the outstanding performance of these NewSkin enabled manufactured components in real environments and applications.
Read about NewSkin OITB facilities >>
link