Applied Graphene Materials Ltd
Applied Graphene Materials (AGM) manufactures graphene nanoplatelets using a synthetic process. AGM have developed a proprietary dispersion process which has allowed the development of a standardised range of stable Graphene dispersions enabling easy incorporation . AGM are also able to supply dispersions of exfoliated graphene nanoplatelets and able to provide a bespoke dispersion service covering a wide range of polymers and solvents ( including water). To support customers AGM have developed application capabilities and develop in house coatings to demonstrate the performance benefit of incorporating graphene nanoplatelets into coatings. AGM have additional interests in green energy ( batteries, fuel cells), composites, printing inks, thermal interface materials and aerogels. To support application of graphene based materials AGM have taken a leading role in obtaining regulatory approval of graphene, undertaking extensive work evaluating the impact of paint spray application and impact on human health together with ecotoxicity of graphene. AGM is additionally carrying out a LCA analysis of graphene based paint systems to evaluate the sustainability impact of these systems.
Targeted industries
Construction, Transport, Renewable energy, Optics and electronics, Industrial Components, Packaging
Key interests
Nano-formulated paints application, Functional films (packaging and electronics), Nano-enabled surfaces for energy storage, Nano-enabled elements for blades and composites
Upscaling facilities
Testing facilities
Climate chamber
Projects
Projects for this organisation have not been documented.
Services
Services for this organisation have not been documented.
Products
Products for this organisation have not been documented.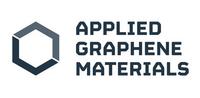 https://www.appliedgraphenematerials.com/
graphene Nanoplatelets 2D materials coatings corrosion Barrier Properties Infrastructure batteries Fuel cells thermal management