ML Engraving is the leader in 3D laser texturing on moulds. Laser texturing is the best solution to create exclusive and outstanding finishes that enhance the value of your products. We are based in Italy and we combine passion, creativity and laser technology always trying to improve and widen our services. Our Texture Factory can create the perfect texture, either functional or aesthetic, that recalls your family feeling, your brand values and your style. Our Engraving Department will do the magic and work your moulds with extreme accuracy thanks to severe quality control processes. Thanks to our digital process D.R.E°-Design Rendering Engineering, several laser machines and proven planning procedures we can easily manage big orders in terms of number of moulds or shape. We also have a B.U. called Nuovo Cesello which provide direct laser texturing services on metal items, such as high-quality components in various industrial fields such as watchmaking, automotive interiors, hunting art, jewellery, pens, and so on. We are certified Innovative SME and partner of EU projects for the technological development.
Targeted industries
Key interests
Textured industrial components (gears, seals, gaskets, pistons, shafts, propellers…), Optics
Upscaling facilities
Laser, Texturing during moulding, Roll 2 roll texturing
Testing facilities
Projects
Projects for this organisation have not been documented.
Services
Services for this organisation have not been documented.
Products
Products for this organisation have not been documented.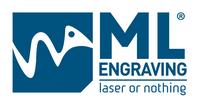 https://www.mlengraving.com/en/laser-engraving/injection-molding

NewSkin project partner