SILSEF is a performing SME specialised in nano-patterned functional surfaces, in particular for optics (anti-reflection, diffraction/decoration) and wetting engineering. It develops innovative and patented technologies to create high performance surfaces combining bulk (chemical) properties with those generated by nano-imprint (physical) patterning on semiconductors, metals, glass and polymers. SILSEF is involved in funded projects (ANR, DGA/Astrid Maturation, Eurostars) and joint- development with customers. It shares a 2.000m2 semiconductor plant with Silicon wafer manufacturer Sil'Tronix near Annecy with cleanrooms and various caharcterisation tools. Wetting control is a strategic area under development through academic partnerships (NILAB open Innovation platform). In particular, SiLSEF currently has a PhD student focused on hydrophobic coatings in collaboration with LMI lab in Lyon.
Targeted industries
Water treatments, Transport, Renewable energy, Medical device, Optics and electronics, Packaging
Key interests
Optics, Functional films (packaging and electronics), Nano-enabled flexible glass, plastic and metal (including flexible electronics, Photovoltaics, heat exchangers and electrochromic envelopes), Nano-enabled surfaces for energy storage, Nano-enabled elements for blades and composites, Micro-electronics, Fatigue assessment of large offshore steel structures, Influence of corrosion on fatigue resistance of high-strength bolts, Graphene, Equipment exposed to harsh conditions , Tribological coatings/surfaces
Upscaling facilities
Texturing during moulding, Roll 2 roll texturing
Testing facilities
Icing conditions, Harsh industrial conditions, Water filtration, Climate chamber
Projects
Projects for this organisation have not been documented.
Services
Services for this organisation have not been documented.
Products
Products for this organisation have not been documented.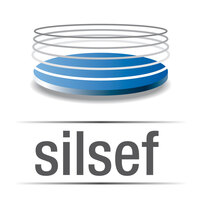 https://www.silsef.com
nanotechnologies advanced materials advanced manufacturing photonics surface modification
Main contact
Daniel TUROVER
Founder and CEO