NewSkin Represented at INNOMEM first Workshop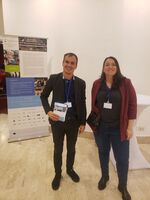 NewSkin Represented at INNOMEM first Workshop
Published on 05 Jun 08:19 (6 months ago)
On November 17-18, 2022, the
INNOMEM project
hosted its first workshop, organized at the Hilton Sorrento Palace hotel & Conference Center, Sorrento (NA), Italy.
The event brought together over 60 participants on-site and on-line representing about 40 public research institutions and private companies that tirelessly work towards a more sustainable development of membrane technologies and processes across Europe and beyond, to discuss the most recent achievements of the project.
ALPHA-RLH
Team has participated in this workshop to represent the NewSkin OITB and to share best practices on open calls management while discussing on the sustainability of OITB.
Following this workshop, the INNOMEM OITB has been invited to introduce this project at NewSkin Days 2023.